Ketogenic Diet Results - Alys Lost 72 lbs on Keto
How did they do it? This question comes up all the time.
I am always excited to learn about weight loss journeys of people who change their life because of keto.
I am continuing a very exciting ketogenic diet results series, where I talk to real people who lost a bunch of weight on a ketogenic diet.
Today my guest is Alys. I found her on r/keto Reddit community, where she shared her amazing progress pictures.
Her progress picture was one of the most upvoted and inspiring in this Reddit community. She is down 72 lbs so far! She went from size 28 to size 18!
Wow! This progress and her life story are so inspirational to so many of us who need a little motivation to keep going.
Alyssa will take you into her ketogenic lifestyle, and how she achieved such great success.
Here is Alys: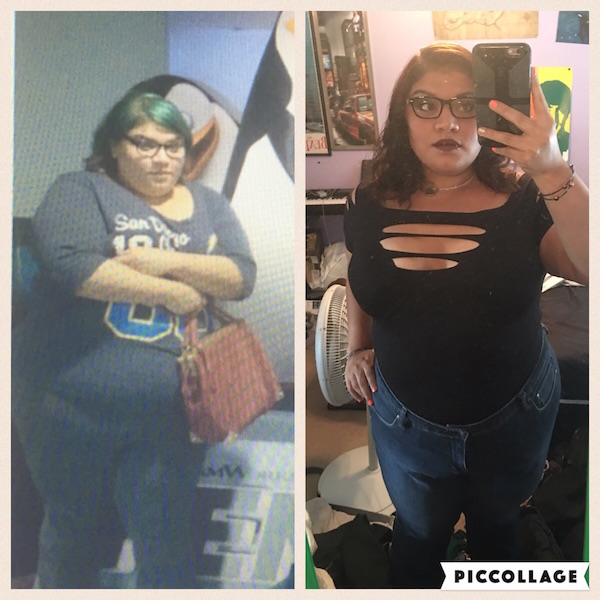 Bio:
Name: Alys Height: 5'5″ Start Weight: 326 Current Weight: 254 Goal Weight: 160
Daily Macros:
Fats: 116g Carbs: 20g net carbs. I try not to go over 50g total. Protein: 120g Calories: 1,600
Interview Questions
What was the last straw that made you change your lifestyle?
My sons' dad cheated on me several times and I realized that I had to change everything about the way my life was going.
I broke up with him, started Keto and finished school. I knew as a single parent I was going to need to be able to keep up with 2 kids and I just didn't have the energy.
My older son is special needs and I was so exhausted all the time! I just couldn't do it anymore.
Could you take us to the story that brought you to keto?
I had done low carb in high school and lost weight. I was looking up more information and I came across r/Keto. I'm addicted to cheese so it just made sense to try it.
What mistakes have you made while starting keto?
I'm an emotional eater. When I'm stressed I binge eat. Not having Keto friendly snacks ready was a mistake because I would grab what is easiest.
Can you share with us your typical grocery list?
Keto Meats
Bacon
Ground beef
Chicken thighs
Dairy
Cheese
Skyr ( Icelandic cultured dairy product )
Fruit
Olives
Broccoli
Cauliflower
Lettuce
Side Items:
Peanut butter
Dark chocolate
Almonds
Butter
Garlic salt
Have you had any plateaus, and how do you deal with it?
I'm in one right now, I haven't been as strict as I should be. For me, it's more of an emotional and mental block than not knowing what to do.
Do you exercise on keto? If so, what is your exercise routine?
I walk a lot for Pokemon GO. I do some light weights, Zumba, and yoga with my kids.
Could you share your favorite keto recipe?
Chicken thighs cooked in butter and garlic salt, add cream cheese, broccoli, and cheddar. You can make it all in one pan. It keeps me full all day.
I have a 2nd one too. I cook mushrooms and a little bit of onion in butter and garlic salt. Set that aside, cook chorizo, add cheese, mushrooms, and onions, stuff it in peppers and bake, serve with cauliflower "Spanish rice"
How weight loss impacted your life the most?
I'm happier. I don't think it's because I'm thinner, I think it's because I'm not afraid to try new things.
I have taken my kids out to walk around the lake almost every weekend. We've even rented a paddle boat a few times. I would never have done that before.
What keeps you going?
My kids and my new boyfriend. They motivate me to be better in every way. I want to do so much more with my life now.
---